The Essential Guide to Event & Conference Personalisation
The Essential Guide to Event & Conference Personalisation
Adding the personal touch to your events planning and management strategy can make a big difference in how your attendees engage with your content. In this guide, we'll take you through several tips and tricks to help you create successful personalised events.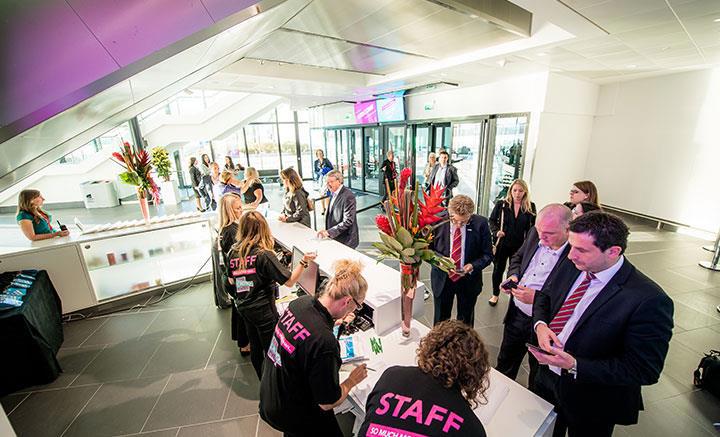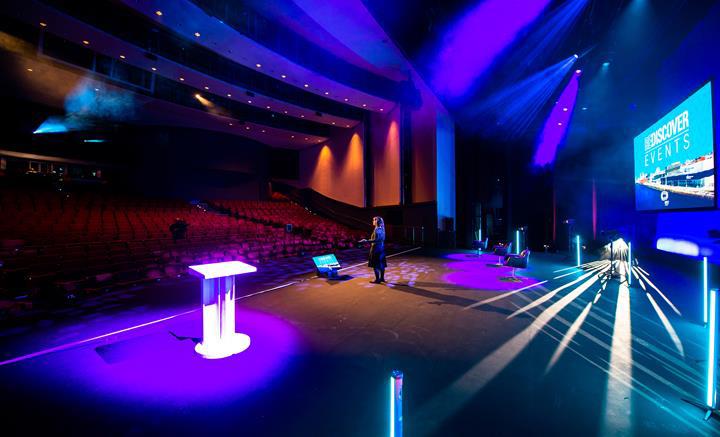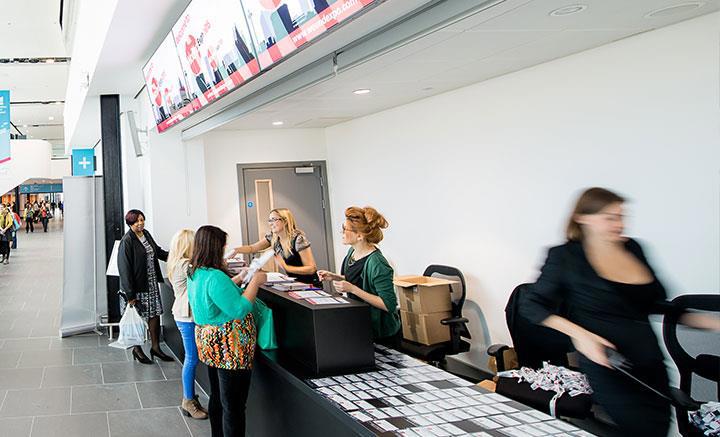 The events and conference landscape has changed over the last several years with the rise in hybrid events and the importance attendees are placing on personalised event experiences. 
But what exactly makes a personalised event, and how can you effectively create this experience for your attendees? In this article, we'll explain the importance of event personalisation, and include some of our favourite tips and tricks to help your event or conference stand out.
What is event personalisation?
Firstly, before you can implement any actions, it's important to understand what event personalisation actually is. 
In the broadest terms, event personalisation is a way for you to tailor your event or conference to meet the needs of your audience and offer the best experience possible. Rather than the old one-size-fits-all approach, event personalisation aims to connect with each attendee and provide them with a customised conference experience. 
This is where your data sets come in. Attendee data and information is vital for the success of personalised events throughout the event lifecycle as it can be collected before, during, and after the event to help you create a more bespoke experience for each attendee.
However, it's important to strike the right balance between event personalisation and tailored marketing. Attendees need to feel valued, not constantly advertised at, as this could isolate them and decrease their interest in the future. 
To avoid this, make sure you always have attendee intent at the forefront of your mind. Ask yourself: 
What are they getting out of every aspect of your personalisation efforts?
What are attendees looking for on their event journey?
How can you approach attendees without alienating them?
Why should you consider personalised events?
This is a lot of extra work, so you may find yourself wondering what the point of personalising events is?
Fortunately, there are several benefits to creating personalised events, including:
Increased attendee satisfaction - audiences enjoy a more personalised approach to communication and events, which can boost your retention rates and professional reputation.
Chances for a higher ROI (Return of Investment) - if you're aiming to sell a product or an idea, a personalised event experience can help increase revenue.
Enhanced member loyalty - successful events or conferences help to boost morale within your membership, and will encourage them to continue working with you.
Improved professional visibility - personalised events can help you stand out from your competitors as you offer more interactive or memorable experiences.
By creating memorable experiences for your attendees, you can drive audience engagement and increase the chances of a successful, and meaningful event for your attendees.
Our tips for event personalisation
With all of this in mind, we'll take you through some of our top tips for creating personalised events for your audience.
Use data capture tools
Event personalisation needs data to succeed. Data gives you the background information necessary to create tailor made content and ensures you're offering a valuable experience to your membership in the first place. In this section, we've pulled out three areas of data collection that you can use to help create a personalised event experience for your attendees.
Registration forms
Before an event starts, guests need to register. This gives you an insight into overall interest through sign-up numbers, as well as an opportunity to collect more data on potential attendees.
Many registration forms have mandatory fields like name, age, address, etc. This gives you a broader look at your audience demographics and can influence how you set up different parts of an event. For example, older audiences may require more technological assistance than a younger demographic.
Top tip - don't use too many mandatory fields. This can discourage people from answering in a meaningful way and could skew your data field.
For other fields, you need to actively consider the type of data you want to collect, and what actually matters for your needs. By offering the option to voluntarily add more information, like a section for interests, likes, and dislikes, you're putting control in the hands of your members. 
Top tip - highlight fields where the data will help you create a personalised experience, as people may be more likely to share meaningful information if it can benefit them in the future.
Due to GDPR, you need to be certain that you can safely store sensitive data from your members. By avoiding unnecessary data collection, it will be easier for you to protect what you do collect. So, instead of asking for a birthday, you can ask if attendees are over 18, or within a certain age bracket.
You could also personalise the registration system with different flows depending on the type of ticket - e.g. for VIPs, Early Bird, general admissions, and speakers or presenters. This gives you an easy way to separate and access important data without having to do it yourself. 
Top tip - use conditional questions to open new fields for guests depending on how they answer other questions for a less obtrusive way to collect more data.
Pre-event data
Outside of the registration process, there are other ways to use pre-event data to help with your event personalisation strategy. Attendee interest can be seen through ticket sales, registration, and engagement with other pre-event content like social posts and emails. 
Using this data can guide you during the event planning stages and inform how you set up and run the conference - including the types of talks or presentations you choose, the people you invite to speak, and more.
Post-event data
After the event, data becomes a valuable tool for reflection, and can help you plan for future conferences and activities. Collecting information during the event can help you see what was the most relevant, which speakers were the most interesting or engaged with, and how successful the event was after the fact. 
Top tip - make sure to use surveys and individual follow-ups to get valuable insight into how your attendees felt about the event.
Create tailored content
The foundation of event personalisation sits with tailored content. This can be through a variety of methods, but at its core relies on a deeper understanding of your audience and how to connect with them effectively.
Communication
You should be communicating with your attendees throughout the conference or event lifecycle, which makes personalised communication incredibly useful. Simple techniques like using personal names in invitation or confirmation emails can have a huge impact on how you make your attendees feel, and increase their engagement with your event.
This is especially true for returning members, or people who regularly engage with other events or content you produce. Recognising their loyalty fosters a sense of belonging within your audience base, which leads to a stronger relationship with your brand.
For professional events, it's worth paying attention to your email templates and including space for a personalised address for attendees with their title or position within the company to make them feel valued and included.
Activities
As an event planner, finding new and creative ways to run events and conferences is essential for success. Tailoring your event activities can go a long way to encouraging attendance and ensuring your membership feels heard.
Your conference programme is somewhere where attendee data can be incredibly useful as this allows you to dig into your audience demographic and find out what style works for them. 
Try to plan a variety of different installations within your event agenda, including:
Breakout sessions
Workshops
Panels
Presentations
Keynote speakers
This helps to provide something for everyone, and a packed programme of contrasting events allows attendees to pick and choose the ones that interest them. This also accommodates different learning styles to create a more inclusive event for everyone involved.
Top tip - make sure your venue can accommodate your desire for different activities. At ACC Liverpool for example, we have a Connected Campus which can be adapted into a variety of configurations.
If your event or conference theme allows for it, you should try to include multiple topics of interest. This broadens the potential audience and allows you to provide more customisable options for your attendees. 
You could even broadcast a vote within your membership during the planning stages to understand what they're interested in and see how you can accommodate this into your programme.
However, when you're dividing events by topic to create a schedule, try not to put similar interest points on at the same time as this could divide attendees and reduce attendance. If this is unavoidable, you could run several sessions of the most popular events to allow for maximum attendance.
Gamify activities
Another way to make your event activities more personalised is to incorporate games. This helps to build a sense of friendly competition, community, and excitement as people work towards a goal during the event. These will also help to increase attendee engagement with your material and create a fun and inclusive atmosphere.
Some fun ideas for simple games are:
Create a bingo card with actions on it to encourage people to try new things during the conference. Completed bingo cards could be rewarded with a small prize.
Design a scavenger hunt for people to complete during the day. This helps them become familiar with the venue and go to activities they may not have otherwise.
Use a points system for different activities and include a leaderboard. The winner could win a prize and a shout out at the end of the event.
Using these techniques is an easy, and more subtle, way to gather data about attendees and how they're interacting with your event. You can use this on the fly to adapt certain parts of your conference, or save it to use for guidance when you're planning your next event.
You could also incorporate live Q&A sessions and polls to gather real-time opinions to help you understand how the event is running.
Create networking opportunities
Networking. It's the ultimate marker of a conference, but some people can find this the hardest aspect, especially if they struggle to meet new people. 
That's why finding new and innovative networking solutions should be one of your biggest considerations when it comes to how you can personalise your event successfully. This opens the event to a wider audience, and can create a more inclusive environment.
Fortunately, there are plenty of avenues to explore when it comes to creating networking event personalisations.
For example, you can use collected data to feed an algorithm that matches people with similar interests. This could be done before an event to introduce new people and give them a headstart with networking, with the intention of building strong relationships in the future.
You could also run speed-networking sessions or topic-specific tables after the event for people who struggle to introduce themselves organically. This allows people to feel more comfortable and make better connections with other attendees. 
Consider an event app
If you have the budget and capacity, creating a dedicated app can help your attendees create a personalised event experience. 
This can have a lot of benefits for you and your attendees. For example, having a direct messaging function within the app can allow people to arrange meetings and network on their own terms. 
They can also use this to see and manage their schedule before and during the event. In the days after the conference, you could use the app to share materials they missed to encourage continued engagment with your content. 
This app can benefit you too, as you can use the data collected to help dictate future events - or if you have the option, you can use this data to change or tweak your event in real time to match the needs of your attendees.
Note - app development can be expensive, but it's also a great opportunity to collect data and create a more personalised event. 
Allow for customisable agendas
We've mentioned agendas a couple of times, but this is definitely a big part of successful event personalisation. When you have a conference with multiple speakers, roundtables, panels, and more, it's worth having a space for people to pick and choose what interests them the most. 
This helps people to tailor their own event experience and engage with the content that they find the most meaningful. We've split this section into two as we explain the different ways you can allow for customisable agendas.
Attendee driven
One way is to allow your attendees the freedom to build their own schedules according to what interests them about your event. This could be through an online schedule builder, an app, or even an old fashioned paper or pdf programme from which they cherry-pick the ones they want. This gives attendees more control over how they spend their time at the event.
Note - allowing people to customise their own schedule can also help neurodiverse attendees, or members with additional needs, who may need extra time between events for personal reasons.
Organiser-led customisation
As an organiser, there are some methods you can use to help attendees create personalised event programmes using data collected during the onboarding process.
For example, you could highlight elements of the conference that align with any interests expressed during the registration process via email, or in-app notifications. You could also curate suggested session pathways for guests who may not know what they wish to see, or can't decide on a set schedule.
Offer check-in options
Checking in for an event is usually the first in-person meeting your attendees will have at the event, so it's important to start as you mean to go on with a personalised journey.
By offering multiple avenues for check-in, you're allowing attendees to take some control of their experience and find a way that suits them. Some ways to make check-in easier are as follows:
Arrange check-in desks according to surname, location, or other relevant data field to streamline the process.
Offer electronic check-in services.
Have separate queues for Early Bird or VIP ticket holders.
How to measure event personalisation
Once your conference is over, you'll want to measure how successful it was, which includes how well your event personalisation strategy worked. 
Below we've included a list of data fields you can use to measure the impact of event personalisation.
Attendee satisfaction
Engagement metrics, including session attendance, app usage, and social media interactions (likes, shares, saves)
Attendee retention
Conversion rates (for sales-related events)
Gathering feedback from multiple sources gives you a broad, and more accurate, view of how your conference performed. This is valuable for future events, especially when you can compare and contrast data over time to monitor changes. 
Conclusions
Overall, event personalisation is a valuable tool for event planners. As technology has advanced, attendees have come to expect a level of personalisation through communication and event activities.
By using data to understand your audience, you can exceed their expectations and give yourself the best chance for a successful event!
Need help planning your next event? Contact the team at ACC Liverpool
We have an excellent and talented events team who can help you make the most of your next conference or event. Learn more about our In-House Expertise, or check out our venue with a Virtual Tour to help you plan your event.

 

For more information and helpful advice, explore our ACC Liverpool News and Events Hub…

 

How to Run Carbon Neutral Events | How to Make Your Event Accessible and Inclusive to All | How to Host a Hybrid Conference or Event

;